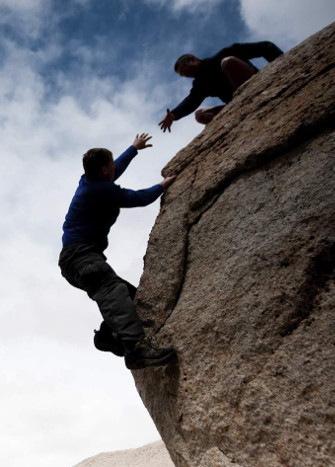 We believe God created the church to be a family. A place for us to find acceptance, security, accountability, guidance, encouragement, and love. That has always been one of our primary goals at Touchstone.
Galatians 6:2 says, "Carry each other's burdens, and in this way you will fulfill the law of Christ." In other words, we are to help each other through life, supporting each other, looking out for each other, laughing and crying with each other.
We believe God intends each member of the church to be an active participant. Church is not a spectator sport. Everyone is supposed to be on the field, in the game, making a contribution. Every member of this family needs to be involved in the family's life; otherwise the whole family suffers. We need each other.
Romans 12:4-5 says, "Just as each of us has one body with many members, and these members do not all have the same function, so in Christ we who are many form one body, and each member belongs to all the others."
We want to see every believer engaged in meaningful ministry, using his or her gifts, talents, interests and energy to serve and bless others, expressing God's grace in tangible ways, glorifying Christ with his or her life. One of the purposes of the church is to help each member accomplish this.
The example of the first church, found in Acts 2:42, is the model we seek to follow. "They devoted themselves to the apostles' teaching and to the fellowship, to the breaking of bread and to prayer." Our core aim is to be a New Testament church.
It is our hope and prayer that you will find a home here at Touchstone, become a member of our family, and find those special places of service that God has uniquely created you for. "For we are God's handiwork, created in Christ Jesus to do good works, which God prepared in advance for us to do" (Ephesians 2:10).
Mission Statement
It was he [Jesus] who gave some to be apostles, some to be prophets, some to be evangelists, and some to be pastors and teachers, to prepare God's people for works of service, so that the body of Christ may be built up until we all reach unity in the faith and in the knowledge of the Son of God and become mature, attaining to the whole measure of the fullness of Christ.

Then we will no longer be infants, tossed back and forth by the waves, and blown here and there by every wind of teaching and by the cunning and craftiness of men in their deceitful scheming. Instead, speaking the truth in love, we will in all things grow up into him who is the Head, that is, Christ. From him the whole body, joined and held together by every supporting ligament, grows and builds itself up in love, as each part does its work.

(Ephesians 4:11-16, NIV)