From the Sunday Bulletin, 04-11-2021
Prayer and Praise Service Tonight: Join us tonight at 6:30 pm for a special time of prayer and worship. This is an online only meeting. We meet at
https://meet.google.com/yvn-vddt-mib
Man Day: Men, join us in person for a great time of worship, Bible teaching, and fellowship, this Saturday, April 17, from 9:00 am to Noon, at Touchstone. We will be utilizing the three-session video series, "Men of Faith," with Paul Tripp. This is an in-person only event. Free. No reservation required.
Sound, Media, & Video Teams: Get in on the fun of running the live stream, operating the sound system, or projecting Scriptures. Just click the "Get Involved" button on the front page of our website and check the "Sound" or "Media" box.
Musicians Needed: Do you play an instrument? You might fit right in on the worship team. If you're interested, please click the "Get Involved" button on the Touchstone website and check the "Worship Team" box.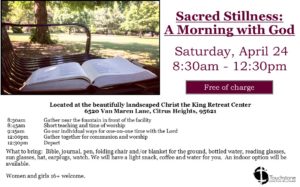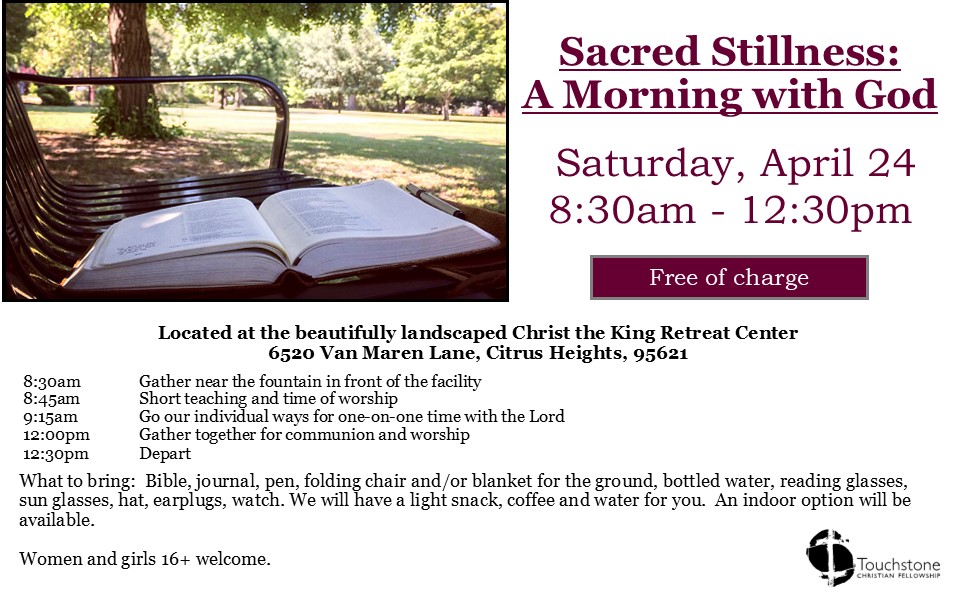 Women's Event – Sacred Stillness: A Morning with God: Join us for a beautiful time of being still with God and worshiping Him together, Saturday, April 24, at Christ the King Retreat Center, 8:30 am to 12:30 pm. For more information, see the flier at https://touchstonecf.org/women/
Live Streams Continue: Our services are available via live stream. Those who are sick or in high risk groups are encouraged to utilize the live stream, accessible via our website, https://touchstonecf.org.
Kids Stuff In Person and Online: Parents, our children's ministry is up and running again, with in-person classes for kids up through 5th grade. But we still have great stuff on-line too, to enhance your family's connection with God and with each other. Join the "TOUCHSTONE KIDS" Facebook Group for lesson videos, to check out interactive discussion guides, and to connect with other Touchstone families. Click the "Stuff for Kids" button on the front page of our website.
Food Closet: Our food closet exists to meet needs in our Touchstone family and our community. If you or someone you know is in need, please consider taking advantage of it. Contact the church office for more information.
Bulletin Download
View and/or download this week's bulletin in PDF format.
Church Calendar
View the church calendar.
Here is a link to our calendar on Google, which you can subscribe to.