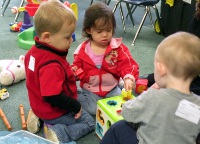 Touchstone Kids is all about showing children how wide and long and high and deep God's love is (Ephesians 3:16-21). We use puppet shows, sing-alongs, crafts, memory verses, and of course, God's Word.
Infants Through Kindergarten
Through everything that happens in our preschool classrooms, our littlest ones are getting a first impression of their loving heavenly Father. Through age appropriate activities, preschoolers are building their spiritual foundation so that by the time they graduate to the First Through Third Grade class, they know these three basic truths:
God made me.
God loves me.
Jesus wants to be my friend forever.
Lessons and teaching strategies vary by age group:
Infants and Toddlers
Infants and Toddlers are cared for in a quiet and peaceful setting by experienced, loving volunteers who reinforce the monthly lesson through simple songs and games of peek-a-boo.
2-Years and 3-Years
Two and three year olds learn and play in a fun environment that features hands-on learning with building blocks, play sets, and tea parties. They learn the monthly lesson from Bible storybooks, from music and movement, and interactive activities.
4-Years Through Kindergarten

Each week, kids age four through Kindergarten learn a different aspect of the monthly theme, through super-engaging Bible stories, activities, crafts, song time, and small group time.
First Through Fifth Grade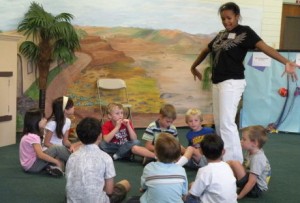 Children in first through fifth grade get to see first-hand how God's love for them impacts their daily lives. Through hilarious storytelling, engaging activities, and close relationships with their teachers, they learn from the Bible that the story of God reveals the character of God.
Lessons and teaching strategies vary by age group:

First Through Third Grade

Key Bible stories, close relationships with teachers, and even some unforgettable illustrations, activities, and graphics capture kids' attention and keep the message relevant. As kids discover Jesus, they learn to reflect His character to the world around them. The lessons stress three core truths:
I can trust God no matter what.
I need to make the wise choice.
I should treat others the way I want to be treated.
Fourth and Fifth Grade

Most kids form their entire idea of who God is and choose whether they'll have a relationship with Him before leaving 5th grade. So students study key Bible stories and experience the truth of those stories through engaging activities and one-on-one conversations with their small group leaders. Our goal is for every kid who transitions into middle school to have experienced and know:
That the Bible is the source of wisdom and truth.
How what it says applies to their daily lives.
That relationships with the people in their lives matter.
Safety
Safety and parents' peace of mind are of utmost importance, so all Touchstone Kids volunteers:
Undergo a fingerprint background check
Follow our safety policy
Maintain a safe and sanitized classroom
Enforce our check-in/check-out procedure
Mission Statement
I pray that out of his glorious riches he may strengthen you with power through his Spirit in your inner being, so that Christ may dwell in your hearts through faith. And I pray that you, being rooted and established in love, may have power, together with all the saints, to grasp how wide and long and high and deep is the love of Christ, and to know this love that surpasses knowledge—that you may be filled to the measure of all the fullness of God.

Now to him who is able to do immeasurably more than all we ask or imagine, according to his power that is at work within us, to him be glory in the church and in Christ Jesus throughout all generations, for ever and ever! Amen.

(Ephesians 3:16-21, NIV)