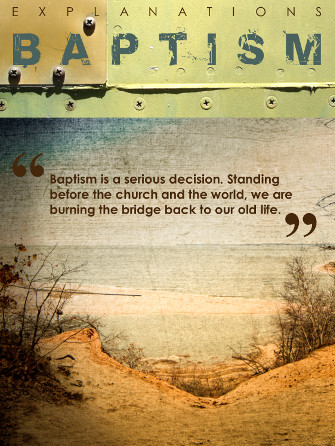 If you have made the important decision to commit your life to Jesus Christ, and you have not yet been baptized, then this is something you want to read. In Matthew 28:19, 20, Jesus proclaimed during the Great Commission: "Go and make disciples of all nations, baptizing them in the name of the Father and of the Son and of the Holy Spirit, and teaching them to obey everything I have commanded."
Why did Jesus command his followers to be baptized?
Baptism symbolizes our repentance; that is, the turning away from our old life of sin and living a new life wholly devoted to Christ. This message of repentance is the focus of John the Baptist's preaching throughout the Gospels.
Baptism also carries the idea of being cleansed and made ready to be in the presence of Holy God. In the Old Testament, the priest would go through a special washing ceremony to make himself ready to appear before God in the tabernacle. For the Christian, the blood of Jesus cleanses us from all sin and makes it possible for us to be in God's presence. The water of baptism symbolizes the washing and preparation that the blood of Jesus has done for us.
However, baptism means more than just repentance and cleansing. When we are baptized, we are making a public declaration that we are a disciple of Jesus Christ, and a member of a new community — His Church. We are acknowledging that we are now part of God's family.
Finally, baptism symbolizes one of the most important spiritual truths of the Christian faith: that we have been united with Jesus in His death, buried with Him, having put our old life to death; and we are united with Jesus in His resurrection, being raised to a new life. "We were therefore buried with him through baptism into death in order that, just as Christ was raised from the dead through the glory of the Father, we too may live a new life" (Romans 6:4). We died with Jesus and we have come to life with Jesus. Water baptism portrays this spiritual reality. When a person is submerged under the water, it is like a burial. When the person is brought back up out of the water, it is like a resurrection to a new life.
Is baptism essential for salvation?
Baptism does not save us. We are saved purely by faith in the saving work of Jesus Christ, rather than any act or rite we perform. However, baptism is an important act of obedience to Jesus Christ. In Matthew 3:13-15, Jesus himself (who never sinned), was baptized in the Jordan River as an example for us to follow. On the Day of Pentecost, when Peter preached to the early Church, the people asked, "What shall we do?" And Peter answered them, "repent and be baptized, every one of you, in the name of Jesus Christ for the forgiveness of your sins" (Acts 2:38).
What can you expect during baptism?
At Touchstone Christian Fellowship, we follow the example of the first century church — baptizing by full immersion. After the pastor asks you to profess your commitment to Christ, he will dunk you under the water. Meanwhile, your new church family will cheer you on. It is that simple.
Who should be baptized?
If you are a follower of Jesus Christ, you should be baptized. "But what if I was already baptized as an infant?" you may ask. If you were baptized early in life, before you made a personal decision to become a disciple of Jesus Christ, then you should be baptized again. This is an act that we each do under our own will and volition as a public testimony of our personal commitment to Christ. Baptism is a serious decision. Standing before the church and the world, we are burning the bridge back to our old life.
How about you?
Are you hesitating to give up your old life? Or, are you staying in the closet, hoping that you can live for Christ secretly? The Lord is challenging you to take that step of public declaration of your faith in Jesus Christ. It is time you stepped out from the crowd and be counted as a disciple of Jesus Christ — it is time you torched the bridge once and for all.
---
Copyright 2014, Touchstone Christian Fellowship. All rights reserved. All scripture quotations are from the Holy Bible, New International Version. Copyright 1973, 1978, 1984, International Bible Society. Used by permission of Zondervan Bible Publishers. All rights reserved.