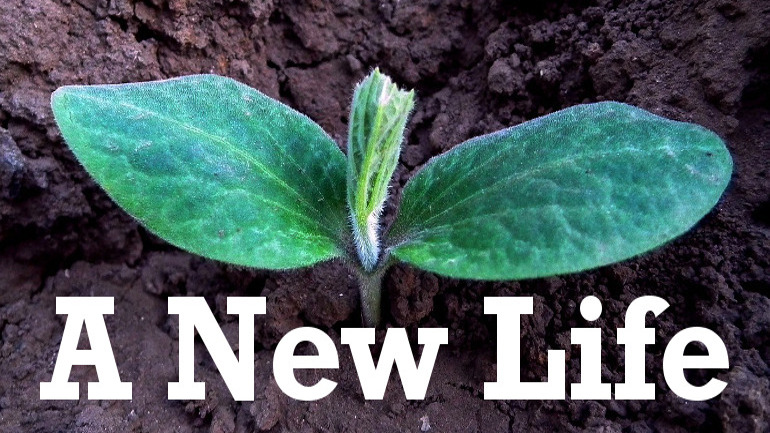 There is a place within everyone that only God can fill and satisfy. People try to fill their lives with many things. Nothing, though, can meet your deepest inner need except God. He is the source of real peace, contentment, and joy. He wants to come into your life and fill you, but there is a problem—sin.
The Bible teaches that every human being has been separated from God because of sin. No one is completely free of sin, no matter how "good" a person may appear to be.
Surely the arm of the Lord is not too short to save, nor his ear to dull to hear. But your iniquities (sins) have separated you from your God… (Isaiah 59:1, 2)

…for all have sinned and fall short of the glory of God… (Romans 3:23)
Sin is anything that separates you from God. Sin is being imperfect. Sin is the refusal to obey God and follow him. Sin is seeking to live your life your way, rather than God's way.
We all, like sheep, have gone astray, each of us to his own way… (Isaiah 53:6)
But the Bible also says God loves you and doesn't want you to be separated from him. He wants to have a relationship with you, to be your friend and closest companion. He wants to make you "whole" and satisfy the hunger in your heart.
For God so loved the world that he gave his one and only Son, that whoever believes in him shall not perish but have eternal life. For God did not send his Son into the world to condemn the world, but to save the world through him. (John 3:16, 17)
God has provided a way to bring you back together with him, have your sin forgiven, take your guilt away, fill the emptiness in your life, and give you a future with him in Heaven. God's solution is his Son, Jesus Christ.
Jesus bridged the gap that separated God and the human race. Jesus lived a perfect life, died as a sacrifice for the sins of the entire world, and then came back to life to give eternal life to all who would seek it.
He (Jesus) himself bore our sins in his body on the tree, so that we might die to sins and live for righteousness; by his wounds we have been healed. For you were like sheep going astray, but now you have returned to the Shepherd and Overseer of your souls. (1 Peter 2:24, 25)

For Christ died once for all, the righteous for the unrighteous, to bring you to God. (1 Peter 3:18)

For there is one God and one mediator between God and men, the man Christ Jesus, who gave himself as a ransom for all men… (1 Timothy 2:5, 6)
You must receive God's solution, Jesus Christ, to share in the benefits.
Yet to all who received him (Jesus), to those who believed in his name, he gave the right to become children of God… (John 1:12)
When you receive Jesus as your personal Savior and Lord, you are not simply brought into contact with God, but according to the Bible you become one of God's children!
Receive Him
To receive Jesus Christ as your Savior and Lord:
Believe that Jesus died as a sacrifice for your sins and came back to life to bring you to God.
That if you confess with your mouth, "Jesus is Lord," and believe in your heart that God raised him from the dead, you will be saved. For it is with your heart that you believe and are justified, and it is with your mouth that you confess and are saved. (Romans 10:9, 10)
Recognize and admit you have sinned and ask God to forgive you.
If we claim to be without sin, we deceive ourselves and the truth is not in us. If we confess our sins, he is faithful and just and will forgive us our sins and purify us from all unrighteousness. (1 John 1:8, 9)
Repent of your sins. "Repent" means to make a determined decision to change your life direction and begin following Jesus.
Ask Jesus to come into your life and begin making you into the person he wants you to be.
Invite Him In
You can invite Jesus Christ into your life by asking him through a simple prayer like this:
Lord Jesus, thank you for dying for me. Please forgive me for my sins. I want to follow you from this day forward. Come into my life and make me into the person you want me to be.
If you sincerely prayed a prayer similar to the one above, Jesus has come in, and you have begun a new life.
Therefore, if anyone is in Christ, he is a new creation; the old has gone, the new has come! (2 Corinthians 5:17)
All of your sins have been forgiven and forgotten by God (Isaiah 43:25). The Bible says God has washed you clean (Hebrews 10:22) and removed your sins from you as far as the east is from the west (Psalm103:12).
God wants you to know, without doubt, that he loves you and has accepted you as his child. Through Jesus, God has established a new relationship with you, and you will be with Him in Heaven, forever.
And this is the testimony: God has given us eternal life, and this life is in his Son. He who has the Son has life; he who does not have the Son of God does not have life. (1 John 5:11, 12)
First Steps
You began a new life when you asked Jesus Christ to be your Lord and Savior. It is as if you have been born again. You have a new Father, a new family, new appetites, and a new way of looking at the world. Now that you have been "born," God wants you to grow. Here are some steps you can take to help you grow and keep growing.
Pray to God
The first step is to communicate regularly with God through prayer. Prayer is simply talking and listening to God. He loves to hear from you. He wants you to talk with him as often as possible at anytime about anything. He is always listening.
… pray continually; give thanks in all circumstances, for this is God's will for you in Christ Jesus. (1 Thessalonians 5:17, 18)

Do not be anxious about anything, but in everything, by prayer and petition, with thanksgiving, present your requests to God. And the peace of God, which transcends all understanding, will guard your hearts and your minds in Christ Jesus. (Philippians 4:6, 7)
The first followers of Jesus asked him how to pray. Some of the things he taught them about praying can be found in Luke 11:1-13. Look those verses up in your Bible and read what Jesus said about prayer.
Try spending time every morning praying before the rest of your day begins. It will make a difference in your life.
Read the Bible
The second step to help you grow is reading the Bible. God communicates to you through the Bible. It tells you about Jesus Christ, shows you how God wants you to live, and can help you make decisions about life. The Bible is like food, because it provides nourishment for your spirit.
Like newborn babies, crave pure spiritual milk (referring to the Bible), so that by it you may grow up in your salvation, now that you have tasted that the Lord is good. (1 Peter 2:2, 3)

Your word is a lamp to my feet and a light for my path. (Psalm 119:105)
The Bible is actually 66 separate books collected into a single volume. These books are grouped into two main parts: the Old Testament and the New Testament. The Old Testament contains books that record what God did and said before Jesus came to earth. The New Testament contains books that record the life and teachings of Jesus and the Apostles.
One of the best ways to read the Bible is to select one of the books in the Bible and read it through, from start to finish. Read one or two chapters every day. (Don't worry. A chapter in the Bible is usually only about one page in length.) If you are reading the Bible for the first time, a good book to start with is the Gospel of Mark. In your Bible, this book may be called simply Mark. Start reading it today.
Go to Church
Going to church is the third step to help you grow. The church is your new family and support system for spiritual growth. At church you will learn about God through the teaching, worship God through singing and prayer, and meet new friends.
And let us consider how we may spur one another on toward love and good deeds. Let us not give up meeting together, as some are in the habit of doing, but let us encourage one another—and all the more as you see the Day approaching. (Hebrews 10:24, 25)
The first followers of Jesus set a good example to imitate:
They devoted themselves to the apostles' teaching and to the fellowship, to the breaking of bread and to prayer. (Acts 2:42)
There is strength in numbers. You will be a stronger Christian and grow closer to God if you share the experience with other Christians. It's like a pile of burning coals. If you separate one of them from the others, it will grow cold.
Begin going to church this week and then ask about a Bible study or small group you can go to during the week. You will be glad you did.
A New Adventure
You are very special to God. He loves you more than anyone ever has or can. His desire is that you continually grow closer to him and become more and more like his Son, Jesus Christ. By putting the steps mentioned above into practice, you will begin to experience life the way God always intended for you. Following Jesus Christ is the most exciting adventure in life. You have just gotten started.
… being confident of this, that he who began a good work in you will carry it on to completion until the day of Christ Jesus. (Philippians 1:6)

For I am convinced that neither death nor life, neither angels nor demons, neither the present nor the future, nor any powers, neither height nor depth, nor anything else in all creation, will be able to separate us from the love of God that is in Christ Jesus our Lord. (Romans 8:38, 39)
It is certain you will read and hear things you don't understand. Don't let it discourage you. Your new family wants to help. Whenever you have questions, just ask someone.
---
Copyright Touchstone Christian Fellowship. All rights reserved. All scripture quotations are from the Holy Bible, New International Version. Copyright 1973, 1978, 1984, International Bible Society. Used by permission of Zondervan Bible Publishers. All rights reserved.